Sequentially Numbered Labels Stock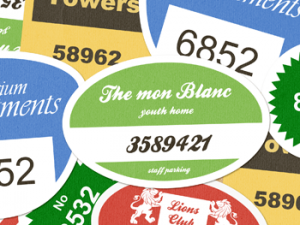 Sequential labels come in all sizes (on rolls or sheets), shapes (standard or any die-cut solution), colors and stocks.
If they contain barcodes, it is the best to use white facestock, so that the barcode can be as sharp and readable as possible. When using elaborate colors, the contrast between printed image and the background might not be distinct enough for the barcode reader to scan it properly.
Facestocks most often used for consecutive labels are paper, vinyl and polyester. Aluminum foil is also very popular for these labels, because it is a very tough material and provides clear, sharp printing. Durable sequentially numbered labels are often tamper proof, which means, they break if someone tries to remove them and leave a visible mark in the shape of the label.
Paper is cost-effective and very conformable. However, it has no durability, so it needs to be laminated if exposed to harsh conditions.
Polyester and vinyl are more expensive options, but very durable. They are an excellent choice for outdoor conditions, resistant to extreme temperatures, moisture, UV, chemicals, etc.
When choosing sequentially numbered label facestock and adhesive combination, you need to ask yourself all the questions you'd consider when choosing any label:
Will the label be used outdoors or indoors?
Will it be exposed to harsh conditions? (extreme temperatures, UV, chemicals, rough handling (in warehouses, during shipping, for equipment parts), etc.)
Will it be exposed to scanning?
How long does it need to last (several months, as long as the product…)?
Businesses that sequentially number labels mostly use thermal transfer, inkjet or laser print technology. You can also topcoat the labels using matte, semi-gloss or gloss laminate for added durability and resistance to outside factors.